....::: PRESENTATION :::....
A.GI.LA. is a cultural non-profit-making association, founded by Young Graduated People who trust in the territory they live in.
The Association has a pure social aim and the goal to make the most of the territorial human resources by using both formal school knowledge and informal competence of ordinary life.
The main initiatives A.GI.LA. intends to support are:

Diffusion and exchange of school or university knowledge through seminars and meetings on themes and subjects proposed by the aasembly;
Promotion of projects concerning internationalization, generational changing, ecological lifestyle methods;
Research on human resources delocalisation in small villages, in order to understand reasons and to find alternatives to propose to young people in search for work;
Help and support to those people who want to graduate or to find a work.
In the section documents you can find articles of association, drawn up by founders. Articles of association can be regarded as a reference document for the association and for associates.
We will be glad to receive your comments, critics and suggestions to get better.
---
...::: 13 NOVEMBRE 2019 :::...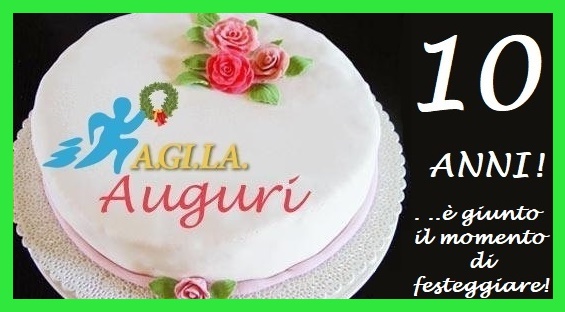 ---
...::: NEWS 1 of 3:::...
"Visita guidata ai Laboratori del CERN"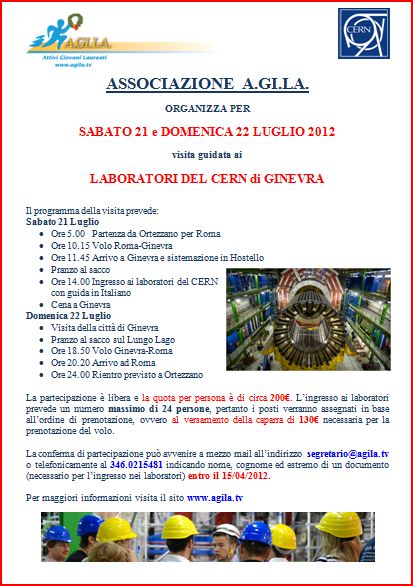 21 e 22 LUGLIO 2012
Viaggio in Aereo + sistemazione in Hostello + cena
Visita al CERN
Visita della città di Ginevra
TOTALE 200€ - Posti disponibili 24
- Scadenza prenotazioni 15 Aprie -
per maggiori informazioni visita la sezioni "Eventi"

...::: NEWS 2 of 3 :::...
....::: NEWS 3 of 3 :::...
SVILUPPO SOSTENIBILE
DEL TERRITORIO
Eperienze, proposte e il ruolo dei giovani



E' POSSIBILE RIVEDERLO NELLA SEZIONE VIDEO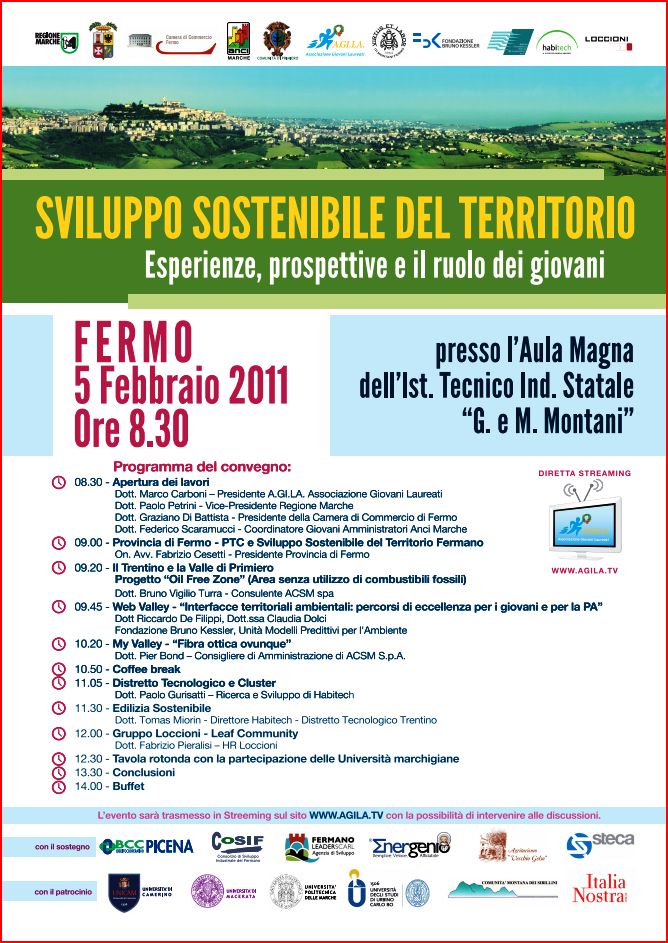 Sabato 05 Febbraio 2011
presso l'Aula Magna dell' I.T.I.S.
Istituto Tecnico Idustriale Statale "G. e M. Montani"

ore 08.30

FERMO
(FM)
Via Montani, 7 - Coordinate: 43░ 09'40.15"N-13░42'33.18"E
per maggiori informazioni visita la sezioni "Eventi"

....::: DOCUMENTS :::....
The application form must be sent the Secretary or a member of the Executive Committee
---
....::: CONTACT US :::....
GEOGRAPHICAL COORDINATES
Sede Operativa A.GI.LA.:
43° 4'49.23"N-13°46'9.96"E
Monte Giberto:
43°05'28"N - 13°37'48"E
Ortezzano:
43°01'52''N - 13°36'25''E
Montelparo:
43°1'7.00"N - 13°32'16.73"E
Villa Baruchello:
43°15'58.5"N - 13°45'7"E
Piazza del Popolo (Ascoli Piceno):
42°51'16.48"N - 13°34'31.95"E
Laboratori Nazionali Gran Sasso:
42°27'36.00"N - 13°34'12.00"E
Università degli Studi di Camerino:
43° 8'8.74"N - 13° 4'6.61"E